4/11/2006
ROCHESTER GAMEROOM SHOW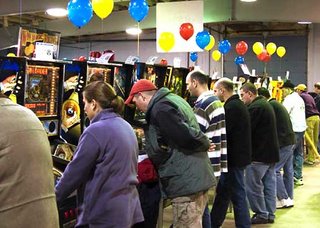 The first Rochester Gameroom Show takes place in the Minett Hall. Brian Spindler is our guide to the 170 pinball machines and 60 arcade games.
http://pinballnews.com/shows/rochester2006/index.html
The first annual Rochester Game Room Show came together after months of planning by the members of the Western New York Pinball & Arcade Group and American Sports Media. On move-in day the excitement was building as the first vendors and pinball machines showed up.